Jury members

Preselection jury members

---
Romain GUYOT (France) Président du jury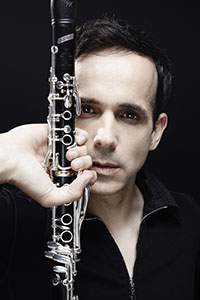 Romain Guyot has performed with the Chamber Orchestra of Europe since the late nineties, becoming Principal Clarinet in 2008.
Born in Fontainebleau, France, Romain is the fourth of five children. His mother was a teacher and his father an engineer. At 6 years old, he taught himself the recorder and theory and started learning the clarinet at school aged 8. Only a couple of years later, mesmerised by the recordings he kept listening to all day long, he decided to become a professional musician.
At 16, Romain was appointed principal clarinet of the European Union Youth Orchestra, conducted by Claudio Abbado. Five years later, in 1991, he was appointed principal clarinet of the Orchestre National de l'Opéra de Paris, where he remained until 2001. He won the Young Concert Artist International Auditions in New York in 1996, one of the highest honours for young soloists, as well as the ARD competition in Munich with the Debussy Wind Quintet.
Romain has performed as a soloist throughout Europe, Japan, Korea, China, South America and the USA. He has performed all of the major clarinet concerto repertoire with numerous renowned orchestras and ensembles.
Romain currently teaches at the Haute Ecole de Musique de Genève in Switzerland and at the Seoul National University in South Korea. He released his first CD as soloist with the Chamber Orchestra of Europe in April 2013 (Mozart's Clarinet Concerto and Quintet) for the label Mirare.
He has also taken part in many chamber music recordings (works by Brahms, Farrenc, Mozart/Beethoven, Ligeti/Janacek).
Also a keen sportsman, Romain Guyot runs marathons, cycles, swims, goes skiing and plays golf. In September 2004 he climbed Mont-Blanc (4,810 meters) to give a clarinet recital on the roof of Europe!
Inn-Hyuck CHO (South Korea)
Inn-hyuck CHO, born in South Korea, is currently Principal Clarinet of the Metropolitan Opera Orchestra. Prior to joining the Met orchestra, he was Principal Clarinet of the Basel Symphony Orchestra, Switzerland after serving in one of the oldest European Orchestra, Musikkollegium Winterthur, Switzerland.
Mr. Cho has also performed as a guest with The Chamber Orchestra of Europe, Zurich Tonhalle orchestra, Orchestre de Paris, Zurich Philharmonia, Radio France Philharmonic orchestra, The Chamber orchestra of Bavarian Radio, Luzern Symphony Orchestra.
He proved his talent as a laureate of the Carl Nielsen International Music Competition and Debussy international clarinet competition. Also he is a member of the Alma Woodwind Quintet, 1st prize winner of International Woodwind quintet Competition "Henri Tomasi" in Marseille, France.
Mr. Cho studied in Korean National University of Arts and Conservatoire National Supérieur de Musique de Paris with Michel Arrignon and Pascal Moragués.
Pierre GENISSON (France)
Born in 1986 in Marseille, Pierre Génisson is one of the best representatives of the French wind school. Winner of the prestigious Carl Nielsen International Competition, he won the 1st Prize and the Audience Prize of the Jacques Lancelot International Clarinet Competition in Yokosuka. His records released under the label Aparté, have been widely rewarded by the international critics (Diapason d'or, Choc de l'année de Classica, ffff de Télérama, «CD of the week» du Sunday Times, Gramophone, Clef d'Or de Resmusica...).
Pierre Genisson trained at the CNSM in Paris with Michel Arrignon for clarinet, Claire Désert, Amy Flammer and Jean Sulem for chamber music. After winning the first prizes unanimously in these two disciplines, he went to study at the University of Southern California in Los Angeles with Yehuda Gilad where he obtained an Artist Diploma.
Pierre Genisson is regularly invited to perform as a soloist with numerous orchestras such as the Deutsches Symphonie Orchester-Berlin, the Tokyo Philharmonic Orchestra, BBC orchestras, Odense Symphony Orchestra, Sichuan Symphony, Trondheim Symphony Orchestra, Jyvaskyla Symphony orchestra, the Orchestre Philharmonique Royal de Liège, the Düsseldorf Symphony Orchestra... and collaborates with chefs such as Krystof Urbansky, Olari Elts, Darell Ang, Sacha Goetzel, Krysztof Penderecki, Alexandre Bloch, Lionel Bringuier...
Passionate about chamber music, Pierre Génisson multiplies musical encounters with many string quartets (Ebène, Modigliani, Jerusalem, Zemlinsky, Hermès, Voce, Van Kuijk...), Claire Désert, Franck Braley, Michel Dalberto, Natacha Kudritskaya, Florent Boffard, Renaud Capuçon, Alexander Sitkovetsky, Geneviève Laurenceau, Marc Bouchkov, Pierre Fouchenneret, Victor Julien Lafferière, François Salque, Les Solistes du Metropolitan Opera de New York, David Bismuth, Nicolas Dautricourt, Marielle Nordmann, Emmanuel Ceysson, Adrien Boisseau, François Dumont, Karine Deshayes, Delphine Haidan...
An active ambassador of the Buffet Crampon brand, he is invited to give numerous masterclasses in Europe, Asia, USA, Canada, Mexico and he teaches at the Ecole Normale de musique de Paris. In 2018, the Académie des Beaux-Arts de l'Institut de France awarded him the «Cino del Duca» Performance Award and he is also a laureate of the Fondation Banque Populaire, Safran, and «Musique et Vin au Clos Vougeot».
Pierre Genisson recorded in London, with the BBC Concert Orchestra, a new CD devoted to Benny Goodman including jazz standards of the famous American composer and jazzman and pieces of Copland, Gershwin and Stravinski created by Goodman. Titled Swing, a Benny Goodman story has just appeared on the label Aparté. Presented on March 7, 2020 on the main stage of the Seine musicale, in Paris, this same program with the same orchestra was sold out to an enthusiastic audience.
In 2022, he released his new recording of Mozart's Clarinet concerto for Warner classics.
Michel LETHIEC (France)
At the moment, the French clarinetist Michel Lethiec is considered to be one of the most eminent figures on the world-wide classical musical scene. Besides his numerous concerts and festival performances, he is also devoted to teaching and participates actively in the research and the distribution of the repertoire.
He has played as a soloist and chamber musician with the most eminent performers and ensembles. Devoted to contemporary music, he has premiered performances of numerous pieces and concertos by composers such as: Penderecki, Corigliano, Denisow, Maratka, Ballif, Dalbavie, Landowski, Decoust, Sallinen, Fourchotte, Narita, Del Tredici...
Besides his concert performances he is regularly invited to give master classes in international schools and festivals.
His recordings include more than twenty compact discs, among which are two Grand prix du Disque ("Ascèses" by Jolivet and "Contrasts" by Bartók, with G. Poulet and N. Lee), for Lyrinx, Arion, RCA, Bis, Talent, Actes Sud, Dux, Naxos. He has recorded as world premieres on CD the three Concertos by Penderecki (with the Saint-Petersburg Camerata conducted by K. Penderecki and E. Leducq) as well as the chamber music works of the same composer (Naxos), "Porgy and Bess" Suite for clarinet and strings (arrangement F. Villard, Naxos), as soon as Golijov "Dreams and Prayers of Iasac the blind" and Bloch "Jewish Life" (with Artis and Itamar Golan, Saphir), Bernard Hermann quintet, "Souvenirs de voyage", and "Mayyar Madness" by David Del Tredici (Naxos). His last recording (2018) presents all clarinet pieces (world premieres) by Krystof Maratka (Arion) and he just premiered a double concerto for flute, clarinet and orchestra by K. Penderecki (with Patrick Gallois and Juventus Orchestra Varsovie).
He is an honorary professor at the Conservatoire National Supérieur de Musique de Paris and teaches at the Nice Conservatoire, he also participates regularly in international competitions (Geneva, Leipzig, Prague, Osaka, Munchen, Hambourg...) as a jury member.
He is the Artistic Director of the prestigious Festival Pablo Casals in Prades.
Michel Lethiec is chevalier in the "Ordre du Mérite" and the "Ordre des Arts et Lettres" in France.
Andrew MARRINER (United Kingdom)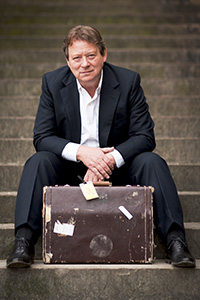 Andrew Marriner held the principal clarinet chair of the London Symphony Orchestra from 1986 to 2019. During his orchestral career he maintained his place on the worldwide solo concert platform alongside an active role in the field of chamber music.

Hi first played with the LSO in 1977 under Celibidache and as guest principal on their 1983 world tour. He later became principal of the Academy of St. Martin-in-the-Fields, held alongside his LSO commitment until 2008.
His extensive solo career has taken him to La Scala Milan, La Fenice Venice, Musikverein in Vienna and across the USA and Australia.

Andrew has worked with some of the most distinguished individuals in the world of chamber music such as Alfred Brendel, André Previn, Andás Schiff, Lyn Harrell, Emmanuel Ax, Hélène Grimaud, Sylvia McNair, Edita Gruberová and with many leading string quartets. He currently tours with "Magdalena Kožená & Friends".

In addition to hundreds of recordings with the LSO and the Academy of St. Martin-in-the-Fields on disc and for film and TV, Andrew has recorded the core solo and chamber clarinet repertoire with various major record companies.

Andrew is in demand as a teacher and woodwind consultant and gives masterclasses, coaches orchestras and adjudicates competition all around the world.
He teaches in London at the Guildhall School and the Royal Academy of Music and is a Buffet Crampon Artist and a D'Addario Woodwinds Artist.
Ludmila PETERKOVA (Czeck Republic)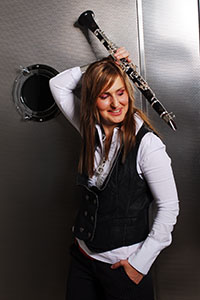 Ludmila Peterková is a Czech clarinet player - a soloist, chamber music player and a teacher. She is a laureate of the Prague Spring 1991 competition, Harmony award for the best recording of 2001 and others.
2014 she was a guest in Moscow where she performed with the Tchaikovsky Symphony Orchestra and well-known conductor Vladimir Fedoseyev the Ondrej Kukal´s Clarinettino. Czech TV also prepared the document about this composition and performance. On Czech TV you could have seen Ludmila during Trebbia Prize 2014 or open air concert of Czech Philharmonic 2013 and conductor Jiri Belohlavek. In the season 2016 she played the Mozart Clarinet concerto on the basset clarinet 10 times, in Czech Republic (Pilsen, Olomouc, Hradec Kralove) and Germany (Stuttgart, Würzburg Mozart Festspiele and others).
For the company Supraphon, with which she has worked already since 1993, she has recorded many titles, the best selling was Playful Clarinet, which is full of well-known melodies. Her CD with the Bennewitz quartet includes compositions by Mozart, Rejcha and Kukal. A title of Smetana Trio, who invited Ludmila Peterková to record Brahms' Trio, is also currently on the market. On Spotify you can find her recordings of clarinet trios (Stravinsky, Bartok, Milhaud and Kchachaturian), which has more than two millions listenings.
She has taught at the Prague Conservatory already since she was 27, performers from Italy, France, Poland, Korea, Japan, U.S.A. and Egypt have passed through her hands. In Domažlice, West Bohemia, she also organises her own summer course of clarinet and chamber performance. In 2018 was the 11th edition already. Since 2017 she is a chief of woodwind department at the Teplice Conservatory.
As a moderator, she has accompanied the television recordings of the concerts of the music festival Dvořák's Prague; in the past, she has also moderated Terra Musica and ExpoHlednice. She also played a small role in the TV serial 'Hop nebo trop' (Hit or Miss).
David SHIFRIN (U.S.A.)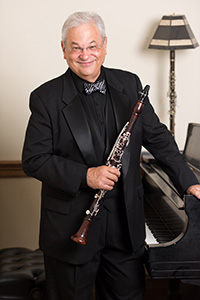 One of only three wind players to have been awarded the Avery Fisher Prize since the award's inception in 1974, Mr. Shifrin is in constant demand as an orchestral soloist, recitalist and chamber music collaborator.
Mr. Shifrin has appeared with the Philadelphia and Minnesota Orchestras and the Dallas, Seattle, Houston, Milwaukee, Detroit, Fort Worth, Hawaii and Phoenix symphonies among many others in the US, and internationally with orchestras in Italy, Switzerland, Germany, Japan, Korea and Taiwan. He has also received critical acclaim as a recitalist, appearing at such venues as Alice Tully Hall, Zankel Hall at Carnegie Hall and the 92nd Street Y in New York City, as well as at the Library of Congress in Washington D.C. A much sought after chamber musician, he has collaborated frequently with such distinguished ensembles and artists as the Tokyo and Emerson String Quartets, Wynton Marsalis, and pianists Emanuel Ax and André Watts.
An artist member of the Chamber Music Society of Lincoln Center since 1989, David Shifrin served as its artistic director from 1992 to 2004. He has toured extensively throughout the US with CMSLC and hosted and performed in several national television broadcasts on PBS's Live From Lincoln Center. He has been the Artistic Director of Chamber Music Northwest in Portland, Oregon since 1981 and is also the Artistic Director of the Phoenix Chamber Music Festival.
In addition, he has served as principal clarinetist with the Cleveland Orchestra, American Symphony Orchestra (under Stokowski), the Honolulu and Dallas symphonies, the Los Angeles Chamber Orchestra and the New York Chamber Symphony.
David Shifrin joined the faculty at the Yale School of Music in 1987 and was appointed Artistic Director of the Chamber Music Society of Yale and Yale's annual concert series at Carnegie Hall in September 2008. He has also served on the faculties of The Juilliard School, University of Southern California, University of Michigan, Cleveland Institute of Music and the University of Hawaii. In 2007 he was awarded an honorary professorship at China's Central Conservatory in Beijing.
Mr. Shifrin's recordings on Delos, DGG, Angel/EMI, Arabesque, BMG, SONY, and CRI have consistently garnered praise and awards. He has received three Grammy nominations and his recording of the Mozart Clarinet Concerto with the Mostly Mozart Festival Orchestra, performed in its original version on a specially built elongated clarinet, was named Record of the Year by Stereo Review. His recordings of the Copland Clarinet Concerto and Leonard Bernstein's Clarinet Sonata have been released on iTunes via Angel/EMI and Deutsche Grammophon. His most recent recordings are the Beethoven, Bruch and Brahms Clarinet Trios with cellist David Finckel and pianist Wu Han on the ArtistLed label; and a recording for Delos of works by Carl Nielsen, which includes the first recording of the Nielsen Clarinet Concerto arranged for chamber orchestra as well as Nielsen's wind quintet and various short works either written or arranged for clarinet and piano. In the fall of 2018, Delos released a recording of three clarinet concertos which were written for Mr. Shifrin by Peter Schickele, Richard Danielpour and Aaron J. Kernis.
Mr. Shifrin has been instrumental in broadening the repertoire for clarinet and orchestra by commissioning and championing the works of 20th and 21st century American composers including John Adams, Joan Tower, Stephen Albert, Bruce Adolphe, Ezra Laderman, Lalo Schifrin, David Schiff, John Corigliano, Bright Sheng and Ellen Zwilich.
In addition to the Avery Fisher Prize, David Shifrin is the recipient of a Solo Recitalists' Fellowship from the National Endowment for the Arts, an Avery Fisher Career Grant and the 2016 Concert Artist Guild Virtuoso Award. He was given an Honorary Membership by the International Clarinet Society in 2014 in recognition of lifetime achievement and at the outset of his career, he won the top prize at both the Munich and the Geneva International Competitions. In January 2018 he received the 2018 Richard J. Bogomolny National Service Award at the Chamber Music America Conference, an award which recognizes an individual or entity who has provided historic service to the small ensemble music field.
Mr. Shifrin performs on a MoBA cocobolo wood clarinet made by Morrie Backun in Vancouver, Canada and uses Légère Reeds exclusively.
---
Aude RICHARD-CAMUS (France) Observer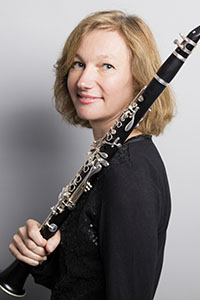 Graduate from the Conservatoire National Supérieur of Paris (1st Prize and Prize Léon Leblanc), Aude Richard-Camus perfected her art at the Mozart Academy (Czech Republic), the Stuttgart Musik Hochschule (Germany) and at the Yale University (U.S.A.; Master of Music).
She won a 1st Prize at the « Festival Musical d'Automne des Jeunes interprètes » (Europe), at the Concerto Competition (U.S.A., Connecticut), and at the Woolsey Hall Competition (U.S.A.). She is also Laureate of the Pierre Salvi Prize and of the Thomas Daniel Nyfenger Prize (Yale University).
Former holder of L'Itinéraire ensemble (contemporary music), she regularly performs with prestigious orchestras such as the Orchestre National de France, the Paris Opera Orchestra and the Rouen Opera orchestra, conducted by Daniele Gatti, Lorin Maazel, Kurt Masur  and Myung-Whun Chung, amongst other. As a soloist she playes, amongst other, in France, U.S.A., Czech Republic, Poland, Costa Rica, Germany, Portugal and Israel.
Since 1999, Richard Camus Aude is Professor of clarinet at the CRR in Rouen, a position that previously occupied Jacques Lancelot.
In 2017, Aude Richard-Camus founded the A.M.R.C posturology teaching method, which is based on the Alexander technique. This revolutionary teaching approach has led her to teach at the "C.N.S.M.D. de Lyon" in France, the "Haute École de Genève" in Switzerland, the C.M.N. of Portland in USA and the "Lourès Festival" in Portugal, as well as at many universities and conservatories in France.
---
Claude BRENDEL (France)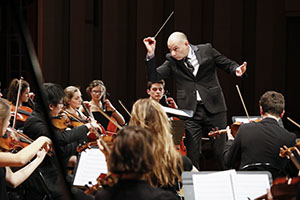 Meeting Jean-Claude Hartemann, conductor and honorary music director of the Opéra-Comique in Paris, has strongly influenced his career as a young conductor, particularly in the opera field. Claude Brendel does not hesitate to say that M. Hartemann has taught him everything about conducting.
First guest conductor of Luchon's Rencontres Lyriques in 1991, then became the musical director alongside the great French soprano Suzanne Sarroca. In 1995 M. Brendel participated in London at the first edition of the International Competition of Young Conductors Leonard Bernstein. M. Brendel is also the guest conductor in various orchestras in the main European countries but also in China, Vietnam and Brazil.
He made several recordings including the 8th symphony of Philippe Chamouard hailed by the magazine Classica. His commitment to repertoire's renewal gives him the privileged to meet with today's composers like Philippe Chamouard, François Rossé, Charles Chaynes, François Tashdjian, Jean-Philippe Bec, Lè Bang, Douglas Braga, Naji Hakim, Ignacio Martinez-Madrigal and as well to create the world premieres' around the globe.
In 2013, Claude Brendel performed in Toulouse as part of the International Toulouse Organ Festival, in Hanoi, Vietnam, under the invitation of the Vietnam National Symphony Orchestra and in Hannover, Germany. In 2014, he collaborated with the orchestra of the Tirana Opera (Albania) and in 2015 M. Brendel was invited to conduct orchestras in China, Brazil and Germany. Between 2016 and 2018, Claude Brendel has collaborated with the Opéra de Rouen Normandy and the Normandy Regional Orchestra.  He conducted many orchestras in China, in several universities. M. Brendel performed many times in Brazil, and in Vietnam with the HoChiMinh City Ballet Symphony Orchestra and theOpera (HBSO). In 2019 M. Brendel founded the "Academia Claude Brendel" in Brasilia (Brazil) devoted to the practice of orchestra and conducting. In 2020 he will come back to Vietnam and conduct the HoChiMinh City Ballet Symphony Orchestra and Opera ( HBSO) but also in Albania to conduct the Radio Orchestra of Tirana. A very eclectic conductor, he is at home in many symphonic and lyric repertoires.
Laureat of the director's contest, specialized in managing school of artistic teaching, M. Brendel is the Director of the Conservatoire à Rayonnement Régional of Rouen and the artistic director and conductor of the symphony orchestra.
Aurélien DAUMAS-RICHARDSON (France)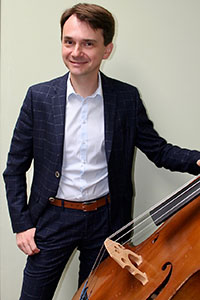 Percussionist, Aurélien Daumas-Richardson played in various Orchestras like the Orchestre de Limoges et du Limousin, the Orchestre de Caen, the Orchestre National des Pays de la Loire, the Brass Band des Pays de la Loire. He taught at the Conservatoire à Rayonnement Régional de Caen and at The Conservatoire de la région Centre.
Mr. Daumas Richardson always have been very interested in the management of an arts education institution and holds his first position as director at only 26 years old. Therefore, he will be at the head of the Conservatoire de Musique et de Danse of Vire, at the École de Musique of Carquefou as well as at the Conservatoire de Musique, Danse et Arts Dramatiques-Villa Carmélie of Saint-Brieuc.
Aurélien Daumas-Richardson perfected his field experience by integrating the 2nd promotion of the training cycle of directors of artistic education institutions proposed by the Institut National des Études territoriales of Strasbourg and the 3rd promotion of the training proposed by the Conservatoire National Supérieur de Musique et de Danse de Paris. He obtained, in 2017, the Certificat d' Aptitude to Director's Functions.
Since 2018, Aurélien Daumas-Richardson is the Director of the Conservatoire à Rayonnement Régional de Caen and the Artistic Director of the Orchestre de Caen.
Yehuda GILAD (Israel)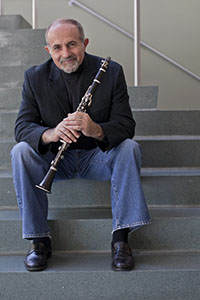 Yehuda Gilad is the Music Director of the Colburn Orchestra.
He is the founding member of the Colburn Conservatory at Los Angeles.
He is clarinet Professor at the Colburn Conservatory, Academy and CSPA and also clarinet Professor at USC Thornton School of Music.
Having as student 3 prize winners of the Jacques Lancelot International Clarinet Competition, it makes this competition one of his recommended one.
David MINETTI (Italy)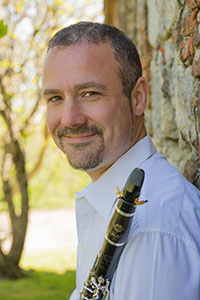 Italian clarinetist, born in Turin, where he obtained a first prize unanimously at the Conservatory "G. Verdi".
He then perfected with Michel and Hans Lethiec Deinzer. He has collaborated with the Orchestra Filarmonica Italiana, Orchestra Haydn of Bolzano, the Poitou-Charentes Orchestra and since 1996 he is solo clarinet of the Orchester National du Capitole de Toulouse, with whom he has performed in the most prestigious venues in the world (Musikverein, Suntory Hall in Tokyo, Berlin Philharmonic...). David Minetti is regularly invited to perform as a soloist under the direction of conductors such as Tugan Sokhiev, Michel Plasson, Philippe Jordan, Arie van Beek, Pascal Rophé in a repertoire ranging from Mozart Concerto Copland, Debussy Weber. He also leads an intense activity of chamber music with many concerts in Paris, Tokyo, Madrid, Turin, Seoul... with artists like David Bismuth, Thierry Huillet Clara Cernat Michalakakos Michel, Michel Dalberto.
In 2018 the composer Bruno Mantovani has dedicated the play "Quasi lento" which was created in the Hall of Toulouse grains. The Toulouse composer Thierry Huillet he also dedicated the play "clarinet" for solo instrument and the same composer, participated in the creation of the "Forest of Carnival".
Very sensitive to the teaching he is professor of clarinet and chamber music DNSPM in the institut '' IsdaT '' of Toulouse and he regularly gives master classes both in France and abroad (Brussels, Turin University Warsaw, Tokyo, Rome, Seoul...). He was also invited by the University of Rio de Janeiro and Buenos Aires National Conservatory of Music as a teacher during tours of the National Orchestra of Capitole de Toulouse in South America.
In 2016 he published his first recording (On Air), in collaboration with the Orchestra of Parachute Balma, in which a directory can be appreciated rather "jazz" in which the clarinet is very comfortable.
The Academy of Languedoc was awarded in 2016 the prize "Paul Vidal" to reward his musical and educational activity in the Toulouse region. Fascinated by conducting and ensembles, he leads since 2008 the Concert Band of QuintFonsegrives in 2017 he gave concerts at the head of all brass and percussions of the National Orchestra the Capitole of Toulouse and in 2019 he led the same set as part of the symphonic season of ONCT. During the 2019/2020 season he will make his debut with the orchestra of Toulouse students (OSET).
David Minetti play with reeds Steuer "Exclusive" on clarinets Selmer "Recital"maintained in the workshop "DuclauMuscat" Toulouse.
Ecesu SERTESEN (Turkey)
Since 2008, Ms. Sertesen has held the position of solo clarinet at the Istanbul State Opera and Ballet Orchestra.
In 2012, Ms. Sertesen premiered in Eskişehir, Turkey the second world performance of Fazıl Say's Concerto, titled "Khayyam", commissioned anpd premiered by Sabine Meyer.
In April 2014, she was invited to the 40th Jazz Days in Germany, in Freiberg to play Hasan Niyazi Tura's Clarinet Concerto and Leonard Bernstein's "Prelude, Fugue and Riffs" with the Mittelsachsischen Philharmonie Orchestra under the conducting of Raoul Gruneis.
During the following oncert tour in Freiberg, Dobeln and Mittweida, the words "unique" and "skilly" were used to describe her clarinet playing throughout the press.
Ms. Sertesen was invited in 2015 as a soloist and teacher at the Hong Kong Wind Orchestra Festival, where she performed Hasan Niyazi Tura's clarinet concerto with wind orchestra and taught a masterclass with Tom-Lee Music and Buffet Crampon.
She was a member of the 2016 Buffet Crampon Clarinet Competition in Taiwan, where she also gave a recital and taught three masterclasses in Taipei, Tacihung and Kaohsiung.
In 2017, Mrs. Sertesen performed a recital at the Buffet Crmpon Showroom in New York, as well as a concert tour as a soloist in Frankfurt-on-Oder, Potsdam and Brandenburg,in Germany, with Fazil Say's Clarinet Concerto. Op 36 "Khayyam" with the Brandenburgisches Staatsorchester of Frankfurt conducted by Howard Griffiths.
In September 2018, she recorded the Max Bruch Clarinet and Viola Double Concerto Op88 with the Vienna Radio Symphony Orchestra under the direction of Howard Griffiths with the young violist Kyoungmin Park, a member of the Berliner Philharmonic Orchestra. The Orpheum Foundation, which supports young talents on the world stage, supported this project. The CD will be released by SONY on February 2020.
Naoko YOSHIMURA (Japan)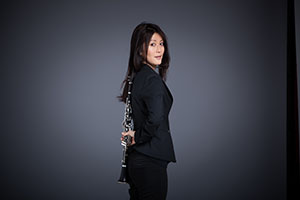 Naoko Yoshimura started playing the piano at the age of 5 and the clarinet at the age of 12.
In 1991, she started studying at the Elisabeth University of Music in Japan.
In 1993, she was accepted at the " Conservatoire National Supérieur de Musique de Paris " where she obtained degrees in clarinet, bass clarinet and chamber music.
She was also awarded third place at the International Clarinet Competition Dos Hermanas (Spain).
She has held the position of prinicpal clarinet at the "Orchestre de l'Opéra de Rouen Normandie" since 2002.