Jury composition
---
Pascal MORAGUES (France) President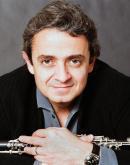 Principal Clarinet at the "Orchestre de Paris" since 1981, Pascal Moraguès has a successful career as a concert player.
As a soloist, he worked under renowned conductors like Daniel Barenboim, Pierre Boulez, Semyon Bychkov, Carlo-Maria Giulini and Zubin Metha.
As a chamber music player, he is particularly busy. He is a member of the "Quintette Moraguès", the Viktoria Mullova Ensemble and the Katia and Marielle Labèque Ensemble.
He has recorded fifteen discs, unanimously acclaimed by the international press.
Pascal Moraguès is Professor at the National Conservatory of Music in Paris, since 1995. He also provides many master-classes in Europe, Japan and in the United States.
Giammarco CASANI (Italie)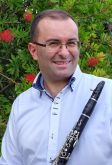 Giammarco Casani has been performing for twelve years as Principal Clarinet of the "Orchestra Sinfonica di Roma" in the most famous concert halls worldwide: Berlin, St. Petersburg, Rio de Janeiro, London, Vienna and Salzburg, with the greatest conductor such as Claudio Abbado, Ennio Morricone, Yang Yang and Anton Nanut. He is also a member of the Wind Quintet "Monesis" and perform in duo with pianist Désirée Scuccuglia.
Developing a passion for conducting, he conducts several orchestras and chamber ensembles like the "Orchestra Sinfonica di Roma".
He is a professor at the academy AIMART in Rome and at the Accademia Italiana del Clarinetto of Camerino (Italy).
Giammarco Casani is artistic adviser and official musician of Selmer Paris and Vandoren.
Franklin COHEN (USA)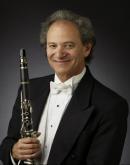 Principal clarinet of The Cleveland Orchestra since 1976, Franklin Cohen has distinguished himself as one of the most outstanding clarinetists of his generation.
At the age of 22, he became the first clarinetist awarded first prize at the International Munich competition.
Mr. Cohen has appeared as soloist with The Cleveland Orchestra in the United States, the Far East, and Europe, appearing with Lorin Maazel, Christoph von Dohńanyi, Christoph Eschenbach, Vladimir Ashkenazy, and others.
He recorded some of the major piece for clarinet as the Mozart's Clarinet Concerto, Debussy's First Rhapsody or the Brahms clarinet sonatas.
In addition, Mr. Cohen has collaborated as a chamber musician with leading artists.
Franklin Cohen has chaired the Cleveland Institute of Music clarinet department since 1976.
Kenji MATSUMOTO (Japon)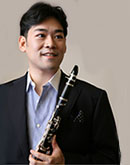 In 1997, Kenji Matsumoto graduated receiving the premier Prix and with the honor of the first prize and «Léon Le Blanc special prize" from the Conservatoire National Supérieur de musique de Paris, France.
After returning to Japan, he has been with the NHK Symphony Orchestra as the principal clarinetist and is a lecturer at the Senzoku University, Tokyo college of music, Ueno Gakuen University and at the Kunitachi College of Music.
Patrick MESSINA (France)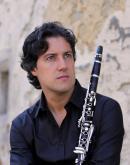 Since 2003 Patrick Messina is Principal Clarinet of the Orchestre National de France. He is also a Professor at the Royal Academy of Music in London since 2011.
After winning 1st Prizes in numerous competitions (Houston Ima Hogg Young Artists Competition and Heida Hermanns International Young Artists Competitions), he has led a great career as a soloist. He played, amongst other, with the Metropolitan Opera, the Royal Concertgebauw Orchestra and the Chicago Symphony Orchestra, under the direction of conductors like James Levine, Leonard Slatkin, Riccardo Muti or Yehudi Menuhin. As a chamber musician, he has played with renowned artists such as Edita Gruberova, Gautier Capuçon, Katia and Marielle Labeque...
Since 2004, Patrick Messina has been one of the artistic advisors for the manufacture of instruments at Buffet Crampon.
Antonio SAIOTE (Portugal)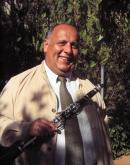 Clarinetist of the Academic Orchestra of Porto, Antonio Saiote divides his time between playing as an international soloist (South America, Europe, Asia), a chamber musician (particularly with pianist Pedro Burmester) and a conductor (Inter-Regional Orchestra in Bad Wuttenberg, Invicta Orchestra, the National Orchestra of Porto, the Portuguese Symphony Orchestra, etc ...).
Former student of Jacques Lancelot, he won the Karol Kurpinski competition (Poland), the 1st Prize of the Arts and Ideas Competition and the New Values of Culture Competition.
Fréquently asked to be jury in international competitions, Antonio Saiote is President of the Portuguese Association of Clarinet and the artistic director of the Soloists of Porto.
Jerome VOISIN (France)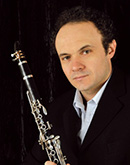 Jérôme Voisin is Principal Clarinet at the "Orchestre Philharmonique de Radio France" since 2006. He is also invited to play in the Mahler Chamber Orchestra and the Chamber Orchestra of Europe.
Winner of international competitions in Rome, Prague and Toulon, he is also a popular chamber musician, playing with Régis Pasquier, Roland Pidoux, Christophe Coin and François Leleux.
Heavily invested in the contemporary repertoire (TM, Court-Circuit or Alternance ensembles), he also explored the tango (Pasarela Ensemble) and jazz (with Stéphane and Lionel Belmondo, Yusef Lateef, Belmondo and Milton Nascimento). His discography includes records of contemporary works and jazz.
Jérôme Voisin teaches clarinet and chamber music at the Boulogne Conservatory and at the Pole Supérieur Paris-Boulogne.
---
Aude RICHARD-CAMUS (France) Observatrice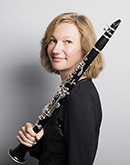 Graduate from the Conservatoire National Supérieur of Paris (1st Prize and Prize Léon Leblanc), Aude Richard-Camus perfected her art at the Mozart Academy (Czech Republic), the Stuttgart Musik Hochschule (Germany) and at the Yale University (U.S.A.; Master of Music).
She won a 1st Prize at the « Festival Musical d'Automne des Jeunes interprètes » (Europe), at the Concerto Competition (U.S.A., Connecticut), and at the Woolsey Hall Competition (U.S.A.). She is also Laureate of the Pierre Salvi Prize and of the Thomas Daniel Nyfenger Prize (Yale University).
Former holder of L'Itinéraire ensemble (contemporary music), she regularly performs with prestigious orchestras such as the Orchestre National de France, the Paris Opera Orchestra and the Rouen Opera orchestra, conducted by Daniele Gatti, Lorin Maazel, Kurt Masur  and Myung-Whun Chung, amongst other. As a soloist she playes, amongst other, in France, U.S.A., Czech Republic, Poland, Costa Rica, Germany, Portugal and Israel.
Since 1999, Richard Camus Aude is Professor of clarinet at the CRR in Rouen, a position that previously occupied Jacques Lancelot.