The third edtion of the Jacques Lancelot International Clarinet Competition officially began tonight, Friday, October 22, 2016, with the now traditional gala concert of the 7 jury members (Giammarco Casani, Franklin Cohen, Kenji Matsumoto, Patrick Messina, Pascal Moraguès, Antonio Saiote, Jérôme Voisin) and Pierre Génisson (First Prize Winner of the second edition of the Jacques Lancelot International Clarinet Competition). Soloists were accompanied by the Symphony Orchestra of the Rouen Conservatory conducted by Claude Brendel.
The 8 soloists, all exceptional musicians, delighted the audience with their wonderfull interpretation of well-known or more rarely performed pieces, remarkably accompanied by the orchestra of the Conservatory composed of young musicians from 15 to 23 years, under the precise and expressive baton of Claude Brendel.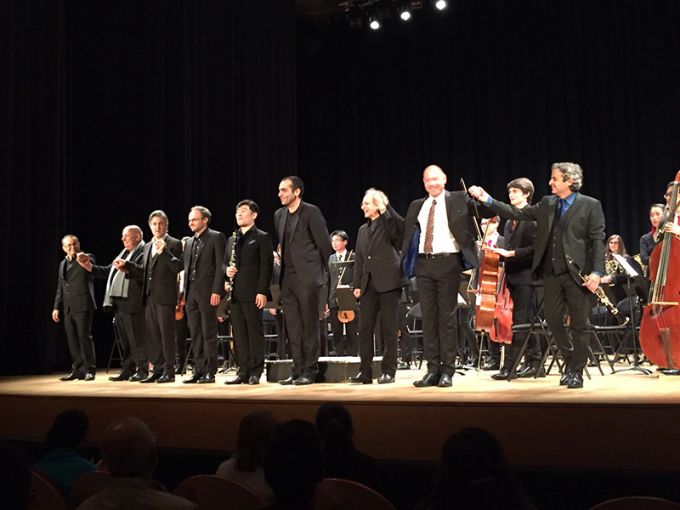 Soloists, from left to right : Giammarco Casani, Antonio Saiote, Patrick Messina, Jérôme Voisin, Kenji Matsumoto, Pierre Génisson, Franklin Cohen, Claude Brendel, Pascal Moraguès
Tomorrow you can come listen to the 81 preselected candidates comming from 25 different countries, in the first round of the competition which will take place in the auditorium Jacques Lancelot of the Rouen Conservatory (50 Avenue de la porte des champs). The entrance is free. You will find on the program page in the works that will be interpreted by the candidates. This is a unique opportunity to hear the best clarinetists of the new generation.
Remember that the semi-final will take place from Tuesday, October 25th at the Rouen Conservatory and the final accompanied by the Opera of Rouen Normandie will be held at the Théâtre des Arts Thursday 27 October at 7:00 pm.